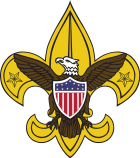 Our Troop is always looking for parents with Special Interest that will help our Scouts on the trail to Eagle.
If you want to become a Merit Badge Counselor please fill out the Merit Badge Counselor Application  and the Adult Leadership Application, both are required to be a Merit Badge Counselors.
Special Message to the Parents of Troop 285
To all Troop 285 Parents:We need your Talents–just a little time and no money. In return, our Scouts in Troop 285 will be forever grateful. Here's how: All Merit Badge Counselors within the Greater Niagara Frontier Council (that's us) need renew their applications annually so that records are kept update. This is done every January. To prevent Troop 285's Roster of MB Counselors from being depleted, please fill out a new application when you renew your Scout's registration in December. If you are not yet a Merit Badge Counselor please review the Merit Badge List and see where you can join and help our Scouts earn their badges and ranks
Please download an Adult Volunteer Application and a Merit Badge Counselor Application. These will take less than 5 minutes to complete but mean a million hours of recognition from our boys. What merit badges could you possibly consider? Please take a look at www.meritbadge.org for the most up-to-date list of the over 100 possible badges. Look for areas of interest, hobbies, vocations, dreams, etc. You do NOT need to be an expert–just interested. The boys do the work; us counselors guide and mentor.
Can you help?
If so, please print both forms. Fill them out. (Make copies, keep one and send or give one to the Scoutmaster)
Send to:
Greater Niagara Frontier Council #380, Boy Scouts of America
Attn: Nancy Meroff
2860 Genesee Street
Buffalo, NY 14225
Remember, It's for the boys