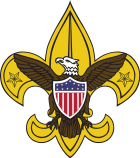 Boy Scouting is for boys who have earned the Arrow of Light Award and are at least 10 years old or have completed the fifth grade and are at least 10, or who are 11, but not yet 18 years old. Boy Scouts develop character, citizenship, and personal fitness as they follow the Scout Oath and  Scout Law.
The Boy Scouts of America is the largest youth organization in the United States, with over five million members in its age-related divisions. More than 110 million Americans have been members in the history of the BSA.
The Boy Scout program includes a wide range of Advancement opportunities:
Scouts can earn rank advancement from Scout through Eagle and learn Scout Spirit.
Merit Badges cover over 120 different topics with printable Workbooks and Blue Cards.
Additional Scout Awards challenge boys in dozens of other areas. Scouter Awards are for adults.
The Troop Program Features include 36 monthly troop programs with troop meeting and activity plans.
Scouts can attend Summer Camp, Camporees, Philmont, National Jamborees, and more.
Training is offered in areas as diverse as ecology, first aid, and leadership
MeritBadge.Org is your online Scouting University with topics ranging from Training to Uniform, Knots, and Outdoor Skills.