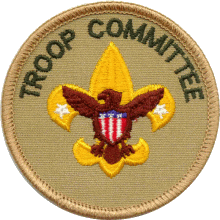 The Troop Membership Chair is appointed by the Committee Chairman to help ensure a smooth transition of new Scouts into the unit and orientation for new parents. Responsible for recruiting campaigns and for year-round recruitment, growth and retention.
Qualifications:
Is at least 21 years old, subscribes to the Declaration of Religious Principle, and agrees to abide by the Scout Oath and the Scout Law. Possesses the moral, educational, and emotional qualities that the Boy Scouts of America deems necessary to afford positive leadership to youth. Is appointed by the Committee Chairman to serve as its official Scouting representative and is registered as an adult leader of the BSA other than the Scoutmaster or Assistant Scoutmaster.
Responsibilities:
The Troop Membership Chairman's responsibilities are to:
Conduct an annual census of boys in the Orchard Park School System for systematic recruitment. Work with troop committee members to promote recruitment plans.
Coordinate with Cub Master and Scoutmaster to ensure troop attendance and participation in Webelos bridging ceremony.
Work with the Scoutmaster to make sure new scouts are assigned to a patrol and welcomed by the patrol.
Work with Treasurer to collect dues and registration as required for new members.
Greet visitors at troop meetings, introduce them to troop youth and adult leaders, and help them understand how to join the troop. Answer any questions they may have about troop operations.
Make sure prospective troop members (adult & youth) receive the necessary information and forms needed to register in the troop and to sign-up for Summer Camp. Ensure registration paperwork is properly completed and routed to appropriate adult leaders.
Work with the Scoutmaster and Troop committee to develop and carry out a plan for year-round membership growth.
Work with the Scoutmaster and Troop committee to see that advancement happens in a timely manner.
Follow up on Boy Scout dropouts to help return them to full, active membership.
Maintain contact with local Cub Pack leaders, work with Cub Scout packs to make a smooth transition of Webelos Scouts from pack to troop.
Encourage Den Chiefs and promote Den Chief Training.
Invite Webelos dens to visit the troop and attend annual Webelos camp out. Coordinate schedule of visits with Scoutmaster.
Promote and encourage Scouts to recruit new members.
Assist in the orientation of new Scouting parents, review with New Parents the Scout requirements and "Parent Guide" in their son's handbook. Emphasize the part that the family plays in their son's advancement. Stress parent/guardian participation at all troop functions and see that new families are introduced and feel welcome at troop meetings.Maintain contact with parents of new scouts during the first few months after joining to make sure their questions are answered and their concerns are addressed.

Plan and coordinate the troop open house.

Should attend most Troop meetings and be prepared to welcome visitors and provide information about the troop and how to join.

 Coordinate a "Fast Start" training each year in the spring for new adults.

Contact inactive Scouts and encourage them to become active again.

Report to Troop Committee as needed at committee meetings.