Outdoors/Activities Chairman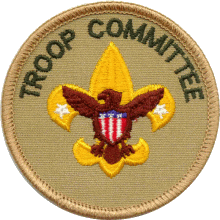 BSA TROOP 285 – Outdoors/Activities Chair
The Troop Outdoor/Activities Chair is appointed by the Committee Chairman to secure tour permits and permission to use camping sites, serve as transportation coordinator, and ensure a monthly outdoor program.
Qualifications

:

Is at least 21 years old, subscribes to the Declaration of Religious Principle, and agrees to abide by the Scout Oath and the Scout Law. Possesses the moral, educational, and emotional qualities that the Boy Scouts of America deems necessary to afford positive leadership to youth. Is appointed by the Committee Chairman to serve as its official Scouting representative and is registered as an adult leader of the BSA other than the Scoutmaster or Assistant Scoutmaster.
Responsibilities

:

The Outings Chairman's responsibilities are to:
Help the Scoutmaster and Assistant Scoutmasters plan and arrange for outdoor activities.
Supervise, promote and coordinate attendance at unit, district and council camps and events
Supervise youth leadership to arrange leadership/chaperons, transportation, tour permits, facility/camp reservations and first-aid for all outings. Approves all arrangements and documents.
Locate new camping, backpacking and High Adventure areas.
Help arrange for equipment, as needed.
Arrange for Safe Swim Defense implementation for all outings involving swimming.
Plan outings to help the troop qualify for National Camping Awards.
Help inform parents and guardians about opportunities for family camping. Ensure that at least two adults have completed Introduction to Outdoor Leadership Skills (IOLS).
Help promote Summer camp and resident camp opportunities.
Promote, through family meetings, attendance at troop campouts, camporees, and summer camp to reach the goal of an outing per month.
Take advantage of all district and council events and activities.
Be aware of BSA health and safety requirements and see that they are implemented.
Know and carry out BSA outdoor program policy related to Boy Scouting.
Participate in Scouting for Food.
Report to the Troops Parents Committee monthly.
Review all activities to ensure that Troop leaders comply with BSA policies in the Guide to Safe Scouting.